Looking for the checklist itself?
---
So, you just spent a boatload on video marketing. Can people actually find your videos?
Getting Started:
Why use this guide?
Video marketing requires a significant investment of both time and budget, yet most marketers fail to make the most out of their videos. By following the optimization strategies outlined in this guide, you will ensure your videos perform well in search engines and deliver better results.
But first, set your KPIs.
Be sure to identify your key performance indicators to measure the success of your video asset or webpage prior to publishing. Whether you are prioritizing impressions or conversions, for example, will determine how you use this guide.

You know your content best
Every team is different! This guide is intentionally over-prescriptive, so pare it down where necessary to meet your unique needs.
---
Video Production Strategy
It's important to think strategically through the entire video production and script writing process, keeping two main goals in mind:
Audience retention
Audience interaction
Linked here are some great examples of these two criteria in action in a travel video, a how to video, and…a sandwich video.
Section 1: Audience Retention
As you plan your video, here are some things to keep in mind:
Begin your video with a brief summary of the video, what will be in it, and when.
After your summary, jump immediately into your most useful content.
20% of people will start your video and leave within 10 seconds! Use your best content up front to keep people engaged.
Use teasers and 'open loops' throughout the video to preview things that will come up later in the video and ignite curiosity in your viewers.
There is no magic or optimal video length, despite what experts may say. Just focus on creating the best video you can.
Perform competitor research and emulate video length for those ranking the best in a YouTube search related to your topic/target keyword.
Section 2: Audience Interaction
Video Comments: Is your audience commenting on your videos?
Comment volume and frequency sends a strong signal to YouTube's ranking algorithm and is directly correlated with ranking improvement. The more comments the better.
It's important to encourage viewers to comment throughout the video, not just at the beginning or the end.
When possible, reply to the comments you receive using your target keyword as well as relevant and semantically related language. (We'll talk more about target keywords below. See? An open loop!)
Post-Viewing Subscribers: Are people subscribing after watching your videos?
Having a viewer subscribe to your channel after they watch your video is another strong signal to YouTube's ranking algorithm that your videos are high quality, and should be shown to more viewers.
Be sure to encourage viewers to subscribe to your channel at the end of your video.
Video Shares Across Social: Are people sharing your video with friends and family?
Encourage viewers to share your video across social platforms.
YouTube can see where a video is being shared and awards your video a ranking boost when your videos draw from another social network to YouTube.
Thumbs Up/ Thumbs Down: Do people thumb up or thumb down, or rate, your content?
Whether it's a thumbs up or a thumbs down, YouTube cares that your video generated some sort of reaction.
Thumbs down DOES NOT hurt rankings.
Thumbs up can help your video's discoverability, since it helps your video show up on recommended videos feeds.
Click-Through Rate (CTR): Do people click on your video when searching for a keyword?
YouTube knows when someone searches for your keyword then clicks on your video
The higher your CTR, the better.
If you are getting a high CTR, YouTube will give your video a boost in average position.
Section 3: BOGY Strategy
Use the colors Blue, Orange, Green and Yellow (BOGY) in your thumbnail images for your videos.
These colors contrast the best with YouTube's platform design and result in your video commanding more attention in relation to other potential options for a viewer to click on.
As you can see in the example below, the bright green thumbnail image is the first to draw your attention.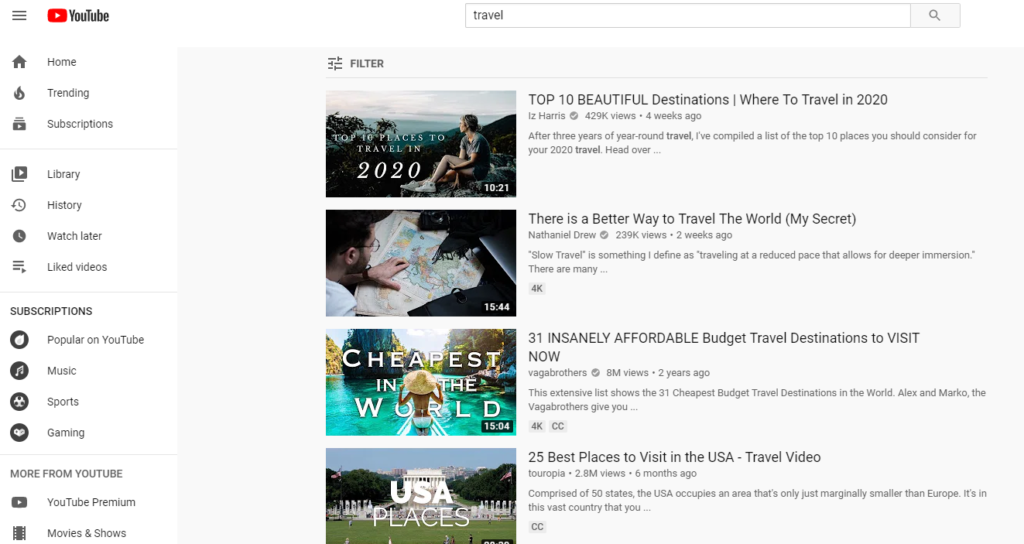 ---
Keyword Research & Selection
Through keyword research, determine the focus keywords that you want your video to rank for. Select one primary keyword and up to two supporting keywords. Your primary keyword should represent your most important business objective, where your supporting keywords are more descriptive variations of your primary keyword. Primary keywords are typically higher in search volume and appeal to a broader audience, where your supporting keywords are meant to target your niche. When paired together for optimization efforts, this should result in more visibility for the optimal audience. In the next section, you'll learn how and where to use these keywords.
For a full overview of how this is done well, check out this blog post from our friends at Swell Media.
---
Optimization Checklist
Section 1: Title, Description, and Tags
Target Keyword:
Videos should be targeting specific keywords.
It is important to say the focus keywords in your video enabling its appearance in the transcription.
Organizing your target keywords in tiers can help determine where and when they should be deployed.

Video Title:
The title should be readable, compelling, and command attention.
40–50 character limit.
Use capitalization, parenthesis, brackets, or numbers to draw attention.
Video Description:
The video's description will be shown in search and should provide a concise summary of what a viewer will see.
5,000 character limit.
Use at least 250 words minimum.
The first 2 sentences (roughly 160 characters) act as a meta description, are shown within search results and should have an instance of the primary keywords.
Include links to your social media accounts, newsletters, articles, and other websites. (linking table below)
Don't be afraid to be aggressive in the promotion of specific assets or web pages
Video Tags:
Tags should should include focus keywords and their variationsCategories that your video may fall under.
Section 2: Linking
Linking within various elements of a YouTube video and its supporting channel page helps search engines draw correlations between the video's content and the organization who posted it. These links also help funnel viewers to areas where they can learn more about your company or consume campaign-specific material. In the optimization template linked at the bottom of the page is a table to help organize all important links so you can refer back to them during the video creation and optimization process.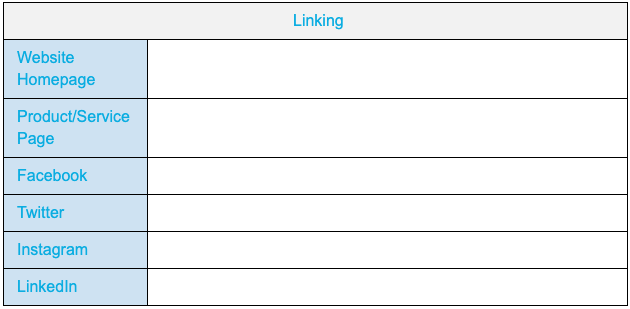 ---
Access a sharable version of this guide below to get the most out of your videos.
---
---
Back