Stock images are typically an unacknowledged part of marketing. Whether you're looking for inspiration for a concept, an example of what something could look like, or creative for a campaign on a limited budget, stock images are often a part of the marketing process. And a good image is a good image, regardless of whether it comes from a stock image site or not.
iStock. Getty. Shutterstock. Adobe Stock. Whatever your site of preference, the experience is the same: keyword-driven searches with a lot of smiling heads and contextless photos littering the results. Every couple pages, an image sticks out that aligns with what you're looking for.
But, on the stock photo site Unsplash, there's something new lurking in those search pages: Ads.
They don't look like ads. They look just like the other images returned for your query. But sometimes, when you scroll over a particularly moody kitchen scene, or an Instagram-ready flatlay, a simple "Sponsored" tag becomes visible in the image's upper-left hand corner. When you scroll off of the image, and the "sponsored" tag disappears, you realize the account name and profile photo don't disappear like on the other photos.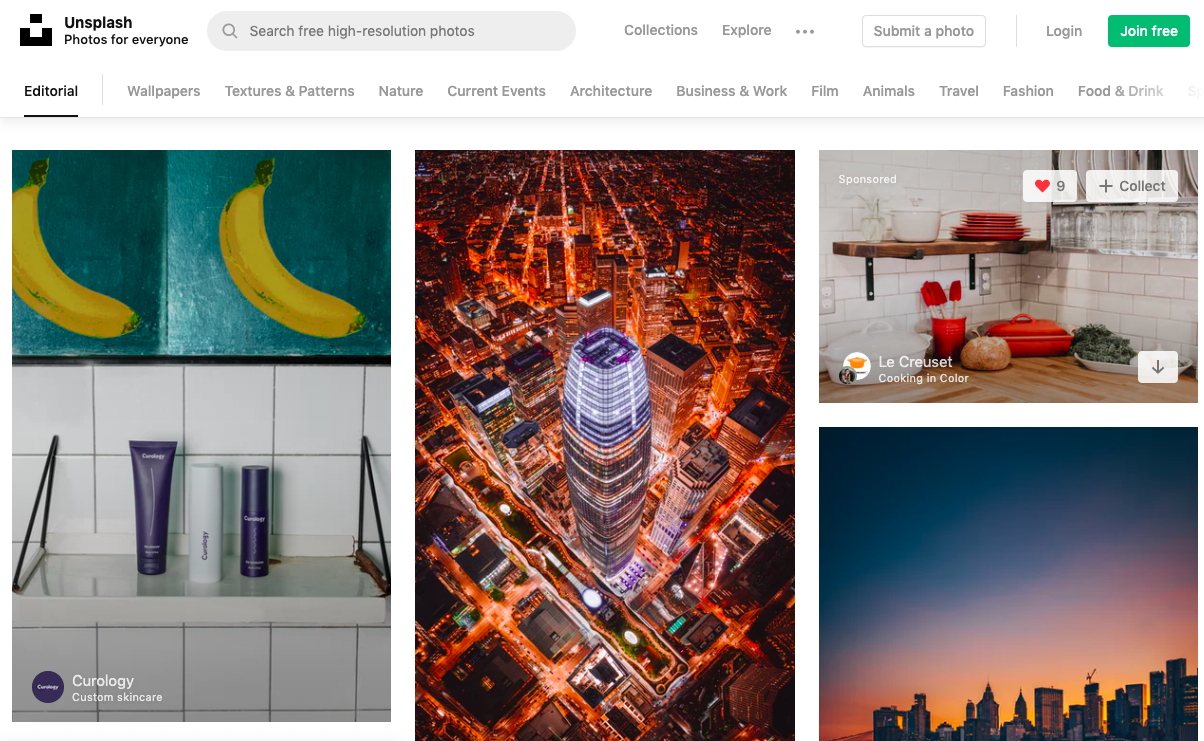 As we go to press on this blog post, Unsplash is the only stock image site that appears to be doing this, though if there are others that you're aware of, let us know. The current advertisers appear to be Le Creuset, Curology, Square, and Boxed Water Is Better. Other brands and companies are putting their images on the site, like Haupes Co., Balkan Campers, Perfect Snacks, and Crook and Maker, but don't display the "Sponsored" tags.
Our question, then, is this: is this a good avenue for marketing your brand? On Unsplash, people are scrolling through image feeds just like they do on Instagram and Google Images, and it's become second nature to advertise your brand there. Where a stock image site goes one step further, though, is that other companies are then using your images in their advertising campaigns or branded content. With their advertising dollars! (Speaking of advertising dollars, we weren't able to discern whether Unsplash is using a pay-per-click model or a cost-per-impression model. If you know, let us know on Twitter.)
For a brief moment, we thought these 4 brands, and Unsplash before them, had developed a great new idea. Then, we thought a bit harder about it. Below, we are going to walk through two potential outcomes (the extreme positive and the extreme negative) that any brand considering this tactic should think through. 
The Best Case Scenario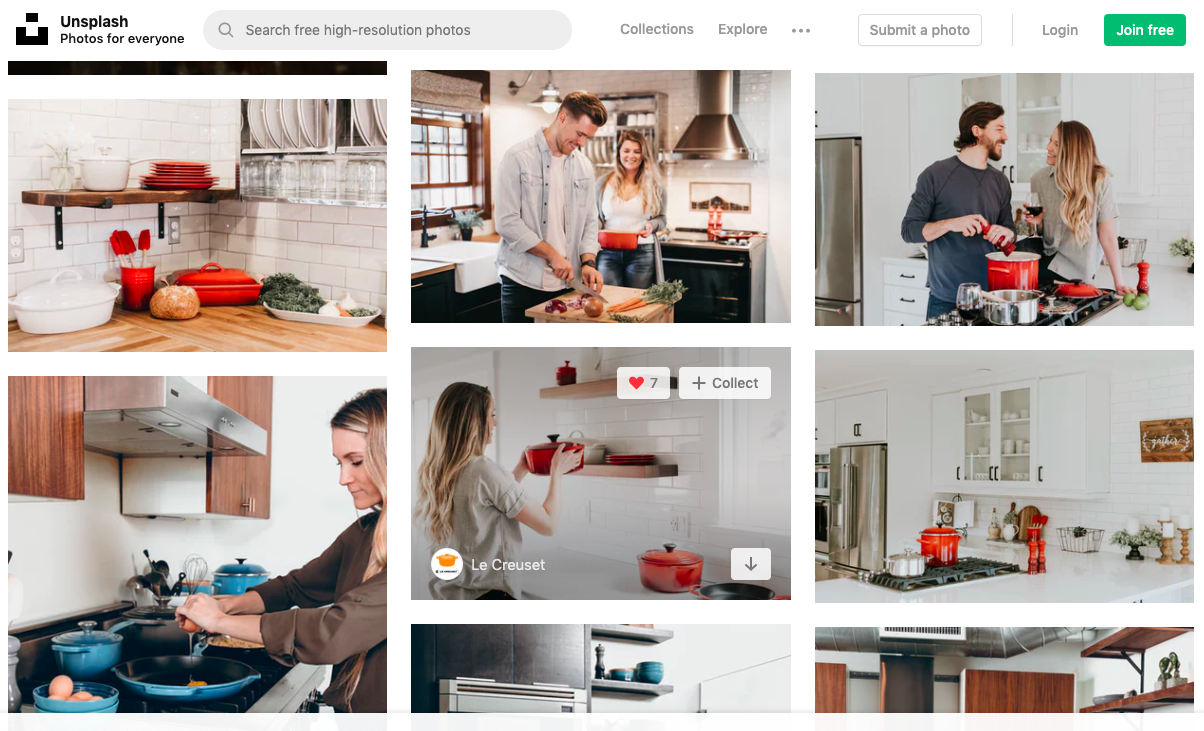 Let's take Le Creuset as our example. In an ideal world, they flood stock image sites with beautiful imagery featuring their pots and pans in a subtle way, and appliance companies begin using the imagery in their Facebook ads, recipe sites post them on their Instagram feeds, and real estate developers begin using them in their marketing campaigns. An image with a Le Creuset pot shows up on a billboard promoting how a regional bank can help your happy family get a mortgage for a new home. Pinterest boards everywhere are full of images of beautiful kitchens with Le Creuset pots. It becomes so expected than any modern kitchen portrayed in advertising needs some classic cookware that provides a pop of color that counter top manufacturers, cabinetmakers, and interior designers are using the pots in the imagery they are producing for themselves. The pages of your favorite home magazines are littered with Le Creuset. Real estate agents and interior designers treat the pots as must-haves when they stage a home for sale.
Eventually, you walk into a friend's house one day and see stainless steel Cuisinart pots on their stove and have the same judgmental reaction you do when a green text bubble pops up on your iPhone.
This is of course the best case scenario. A series of stock images are produced and become so effective when released that they establish your brand as a ubiquitous part of your niche. It's like inception for branding.
The Worst Case Scenario
Now, the other end of the spectrum. Let's say Le Creuset didn't have the sweeping success described above, but their images do get picked up by a few brands to be used in their advertising. Among those brands, there are some unsavory ones: The White Supremacist Cookbook, a few suspicious mortgage companies, and a number of poorly written food blogs that rank very highly in search but offer little to no value to someone looking for a recipe beyond the degree of difficulty of Hamburger Helper. In other words, these photos are being used in places that are off brand.
While these are both intentionally dramatized scenarios, unfortunately your photos are more likely to end up being used by brands that are misaligned, or in subpar executions, or on websites that you'd rather not have your product appear on. It brings to mind brands that were receiving complaints that their ads were appearing on, and therefore supporting, fake news websites over the last few years.
Overall, while this is a very clever tactic and one we will be keeping an eye on, it appears to be less of an opportunity for subliminal messaging and more likely a chance for your brand to be weakened through what consumers will see as poor co-branding.
Have you noticed this paid advertising trend within your stock image search? Check out more from the Saltwater Collective Blog to learn more about industry trends and how they affect your business.
---
---
Back